Method #1 : From Profile ID
You can create icon (16 x 16) image of any Facebook user's profile pic by just typing their Facebook profile ID inside[[ ]] (double square bracket). This trick will work in Facebook chat. You just need to grab the person or page's Facebook Profile ID. You can do this by putting the person/page's username as :
http://graph.facebook.com/
username
Replace the username from the person's username, grab the profile ID and use it on Facebok Chatbox as[[

profileID

]]. For e.g.[[

1234567890

]]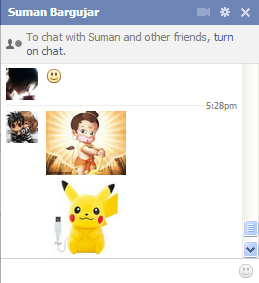 Method #2 : For Any Image / Photo
I am sure, you are searching something like this. The above method is showing user's profile pic as a 16 x 16 pixels emoticon in Facebook Chat while this method will allow you to create numeric code for any image whether it is in your Facebook account or is available in your PC's hard disk.
Step 1 : Navigate To https://apps.facebook.com/big-emo-creator/
Step 2 : Upload your image from PC.
Step 3 : Proceed the steps.
Step 4 : Grab the

Numeric code

from opened webpage and use it on your Facebook chat.
That's All